Online Account Access 24/7

View balances, transfer funds, pay bills and much more with CCTC Online Banking. 





Featured Business Info: Click Here

Save Paper,

Get e-Statements




Enjoy the convenience of

electronic statemenmts today!







Personal Protection & Peace of Mind with IDPROTECT
Log on to: www.IDProtectMe247.com using Access Code MO731532to register and access the benefits provided by IDProtect.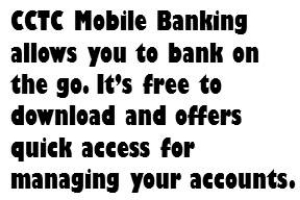 Click here for more info!